Understanding your Domestic Energy Performance Certificate (EPC)
The layout and format of EPCs were drastically updated in September 2020, below we break down a domestic EPC into easy to understand segments and explain each one.
The biggest change that happened to EPCs in 2020 was that EPCs went from being a downloadable PDF stored on separate registers, depending on whether they were for domestic or commercial properties, to being hosted on one government run website and were no longer downloadable PDFs. It is now the webpage on the .gov website that is the legal EPC.
Below we break down and explain the EPC in 9 sections, which you can navigate using the contents to the right.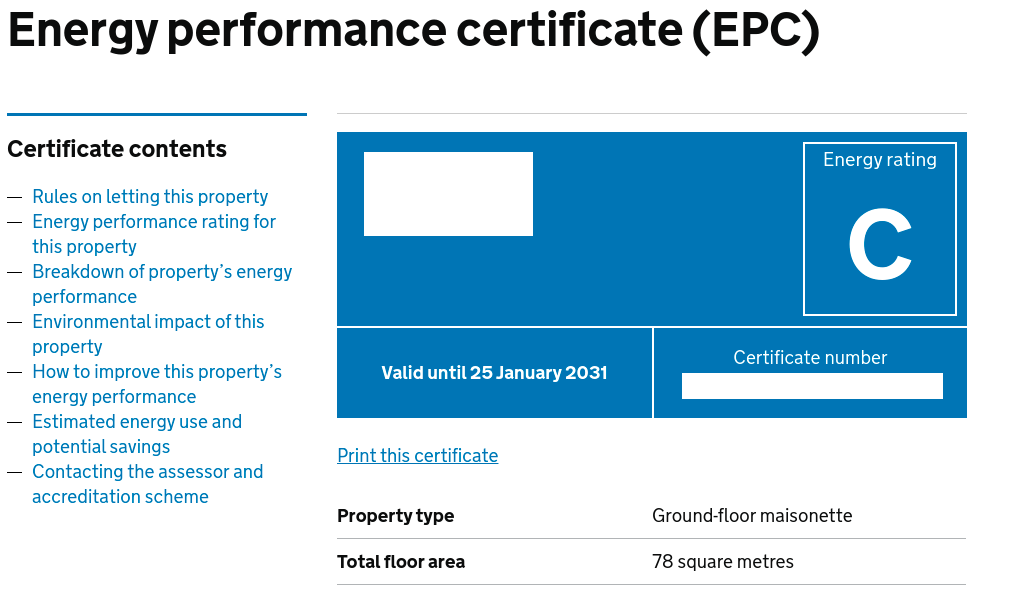 Section 1 - Core Information
The key information about the property is found in the first section of the EPC, please note that in the example above the address and certificate number have been redacted with white boxes to preserve data protection. You are told the address of the property relating to this EPC, it's energy rating grade (on a scale of A+ - G), the expiry date of the certificate, the certificate number (which can be used to locate the certificate in searches), the property type, and total floor area of the property in square metres. You are also provided with a clickable contents that will take you to whichever section you click.

Section 2 - Rules on Letting
This section simply explains Minimum Energy Efficiency Standards (MEES) legislation, which states that as of April 2020 no property with less than an E rated EPC can be let out, regardless of if it's a new or existing tenancy. If you would like to know more about MEES you can do so here, or if you have an F/G rated EPC and would like to find out the most cost effective and least disruptive ways to improve the rating so that your property can be let out then click here to read more about our MEES Consultancy service.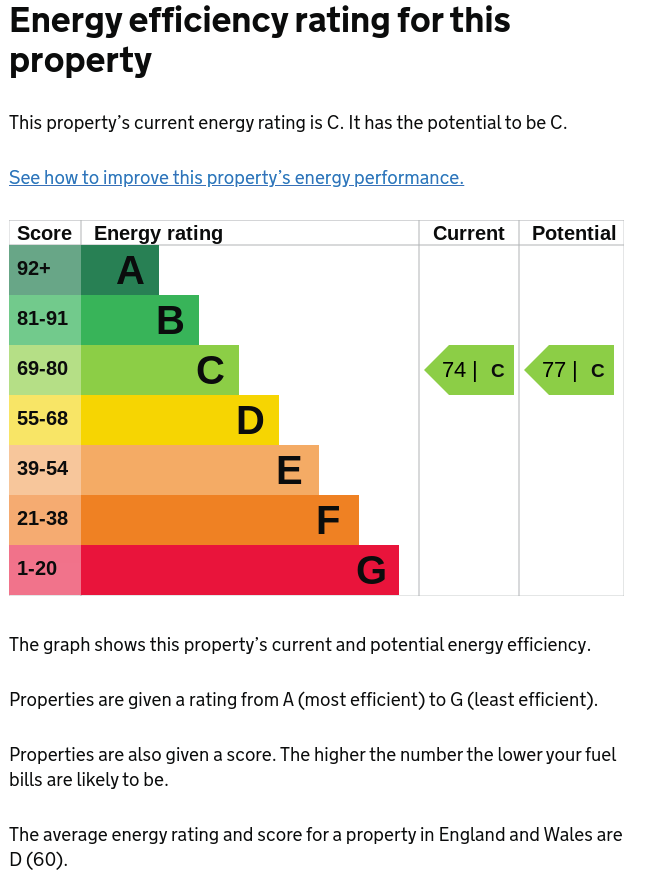 Section 3 - Energy Efficiency Rating
This section visually displays the property's energy performance rating and includes the potential score that the property would achieve if the recommendations (found further on in the report) are completed. Explanations of the graph and average property score are also provided.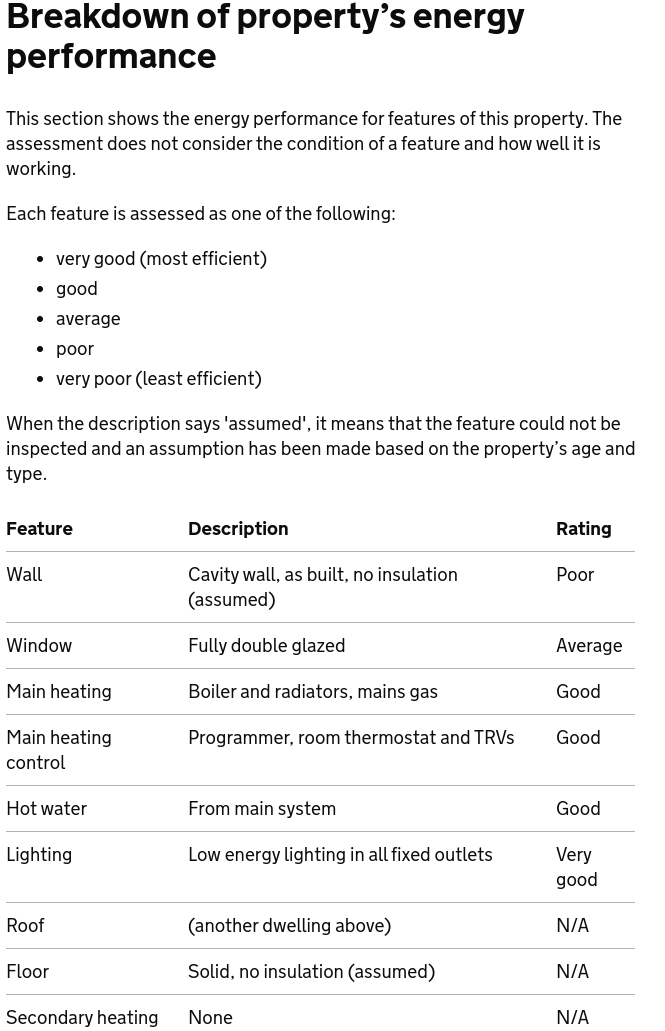 Section 4 - Energy Performance Breakdown
This provides both an explanation of the feature rating and a table of ratings for various features throughout the property, such as heating, lighting, and the construction of the building.
As well as the feature rating table, an estimate of the primary energy is provided, this is an estimate of the energy needed for lighting, heating and hot water in the property for a year (per m2), it takes into account power station efficiency, energy used to produce and deliver the fuel, and the efficiency of the property's heating system.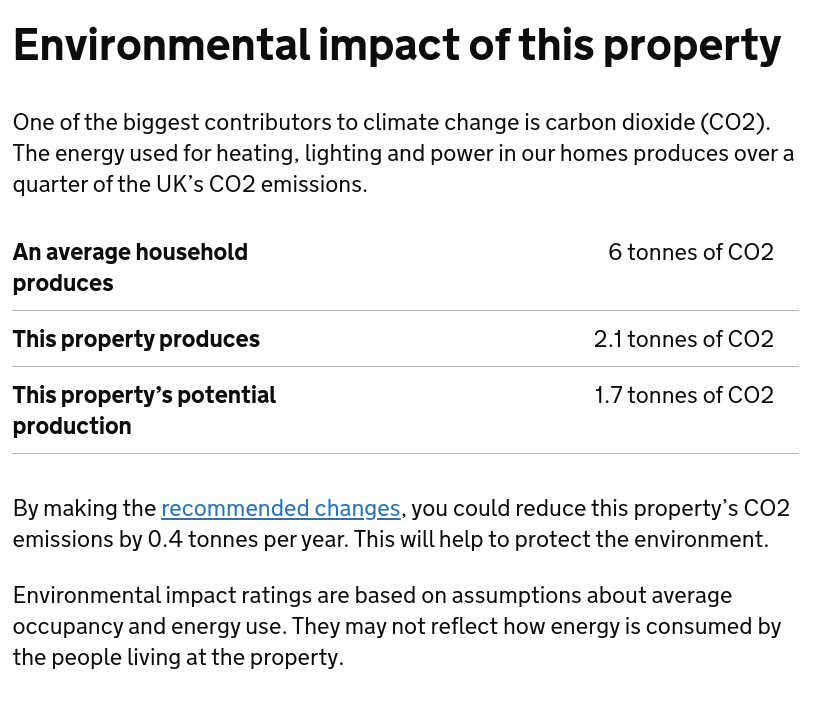 Section 5 - Environmental Impact
A comparison between the CO2 produced annually by the property vs an average domestic property, with some info about what it could potentially produce if the recommendations provided later on in the EPC are implemented.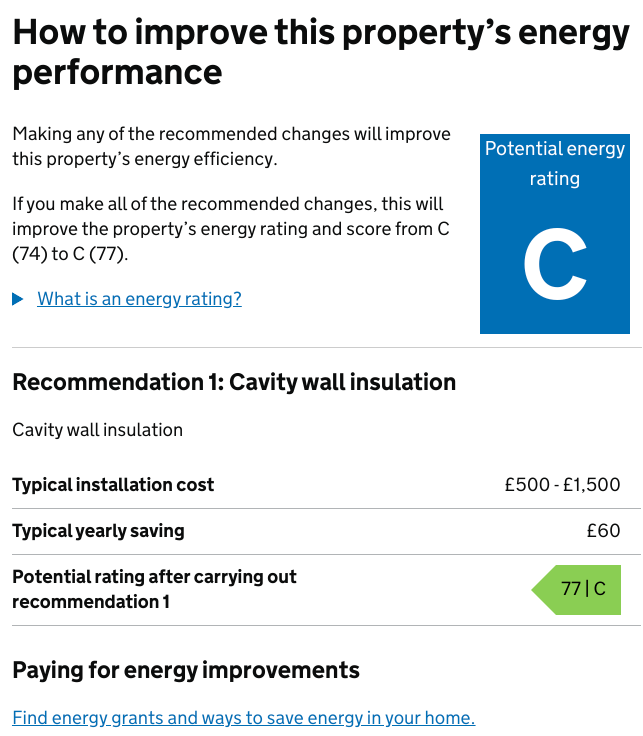 Section 6 - Recommendations
This section includes an estimate of the property's potential energy rating if the provided recommendations are completed, along with the recommendation(s) in question, and an estimation of installation cost and savings over 1 year. Also included in this section is a link to take you to advice on finding grants that you may be able to apply for.
It's important to note that the recommendations provided are generalised improvements generated by the EPC software that can be removed or added by the assessor, and are NOT guaranteed to increase the property's energy rating to the provided estimate. If you are looking to improve your property's score (especially if you are looking to do so to comply with MEES legislation) then we recommend using MEES Consultancy, which uses the raw data collected during your property's survey to find and present in an easy-to-understand document the most cost efficient and least disruptive ways to raise the energy rating. Find out more here or get in touch with one of our team on 0800 170 1201.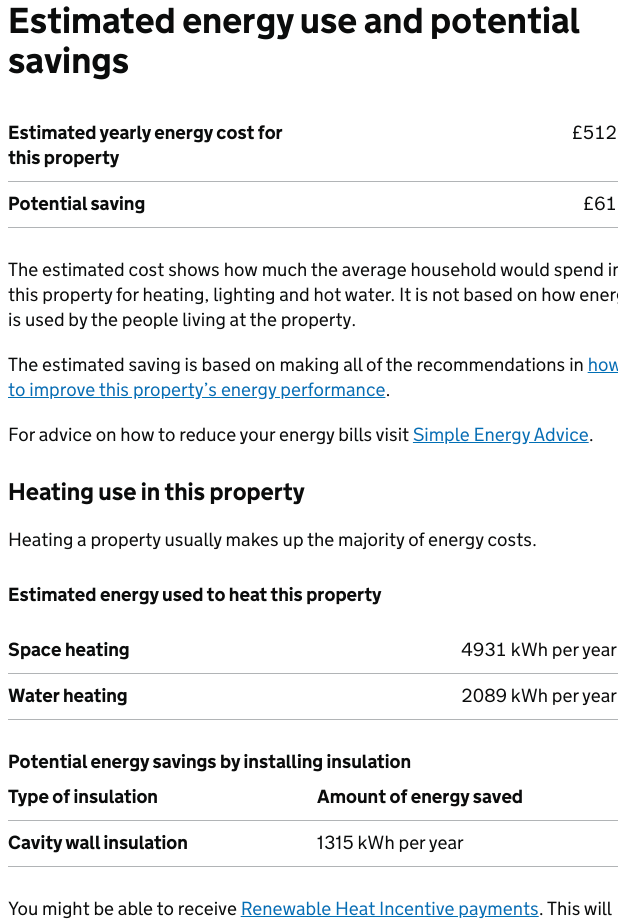 Section 7 - Energy & Cost Estimates
An estimated energy use and cost of energy use in the property and amounts that could potentially be saved by implementing the provided recommendation(s) is provided and explained in this section, along with a link to information about RHI.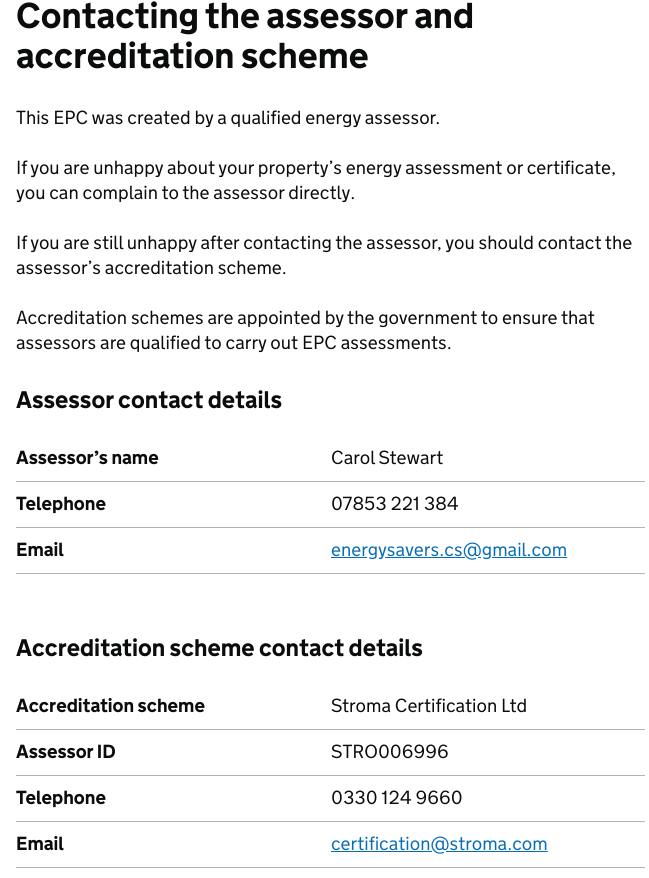 Section 8 - Contact & Assessment Details
Contact details of both the assessor and their accreditation body are included in this section, along with details on what to do if you are unhappy with any part of the assessment or certificate. The type and date of the assessment are also included, the certificate date is especially important as the EPC expires ten years from this date.

Section 9 - Other Certificates
Previous and expired certificates for the property will be shown here. If there are no previous certificates then it will look as above.
If you have any questions about an EPC that hasn't been answered here then please feel free to check out our domestic EPC page, or alternatively get in touch here or by calling us on 0800 170 1201 (Office Hours are Mon-Fri 9:00-17:30 excl. Bank Holidays).