Understanding Your Commercial Energy Performance Certificate (EPC)
In September 2020 there were a lot of changes made to EPCs, some of the most noticeable being changes to the layout, and that they went from being downloadable PDFs to becoming simply web pages hosted on a .gov website.
Here we break down a commercial EPC and explain what all the different sections mean. You can navigate between sections using the contents menu on the right.
Looking for a breakdown of a domestic EPC? Or Commercial Recommendation Report?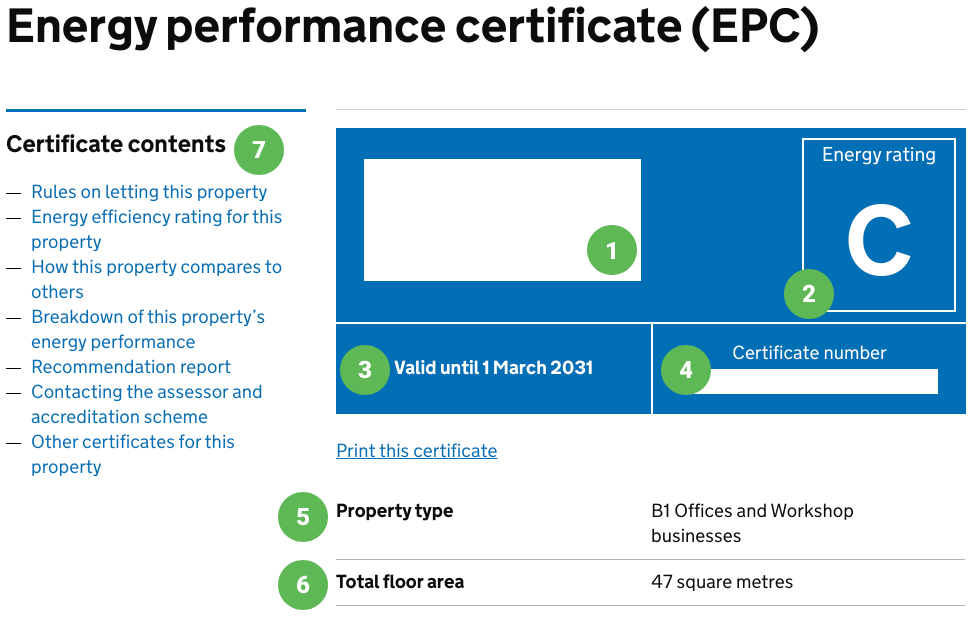 Section 1 - Core Information
The key information about the property and its energy efficiency is found in this section, please note that the two white rectangles represent where the property address and certificate number would be. The information provided in this section is:
1. Property address
2. Energy rating on an A+ to G scale
3. Expiry Date
4. Certificate number - can be used to search for the certificate
5. Type of property - e.g. retail and financial/professional services, storage or distribution, offices and workshop, primary health care building, etc.
6. Floor area in m2
7. A clickable contents for navigation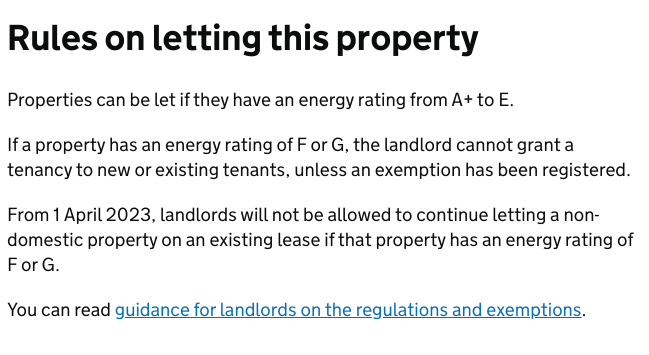 Section 2 - Rules on Letting
This section simply explains Minimum Energy Efficiency Standards (MEES) legislation, which states that as of April 2020 no property with less than an E rated EPC can be let out, regardless of if it's a new or existing tenancy. If you would like to know more about MEES legislation you can do so here , or if you have an F/G rated EPC and would like to find out the most cost effective and least disruptive ways to improve the rating so that your property can be let out then read more about our MEES Consultancy service.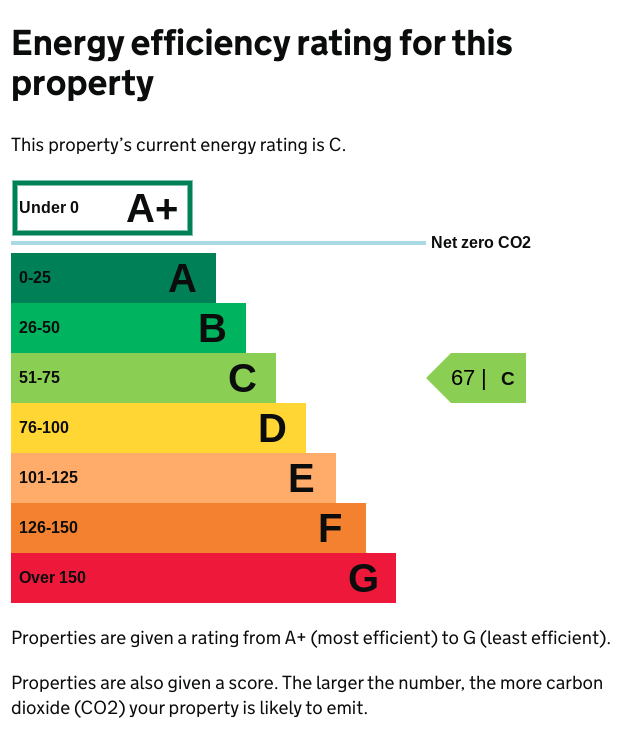 Section 3 - Energy Efficiency Rating
This section visually displays the property's energy performance rating on both an A+ to G scale and a numeric scale from under 0 to over 150. Section 3 also includes the potential score that the property could achieve if the recommendations (found further on in the report) are completed. Explanations of the graph and average property score are also provided.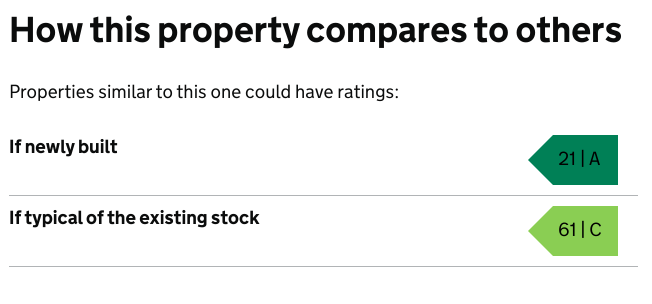 Section 4 - Benchmarks
This section simply shows what buildings with a similar use classification achieve on average. This gives a benchmark for your property to be compared against.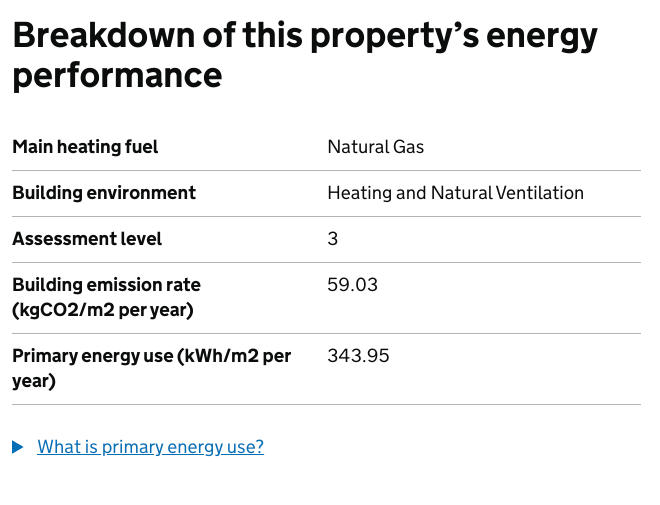 Section 5 - Energy Performance Breakdown
Section 5 provides information about the efficiency of the property, including its main heating fuel, building environment, estimated building emission rate and primary energy use. It also includes the level of assessment required. There are three levels of SBEM assessment, each of which requires an appropriately qualified assessor, the most basic being SBEM level 3 and going up to SBEM level 5 for the most complicated buildings/qualification.

Section 6 - Recommendation Report
This section simply provides access to the property's recommendation report, which you can find a breakdown of here.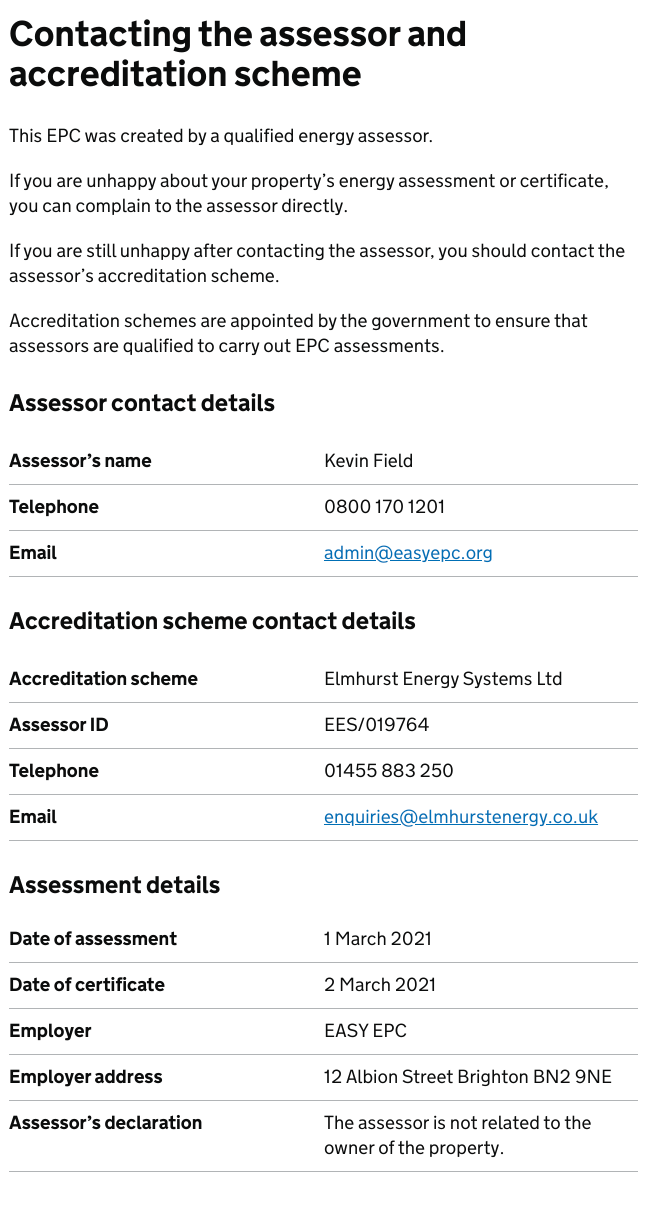 Section 7 - Contact Details
Details of the assessor including name, telephone, email, employer, employer address, accreditation scheme and assessor ID are included in this section, as well as the accreditations scheme telephone and email. You are also provided with assessment details such as the date of the assessment and certificate, and the assessor's declaration; the assessment date is especially important as the EPC and Recommendation Report expires ten years from this date.

Section 8 - Other Certificates
Links to previous and expired certificates for the property will be shown here. If there are no previous certificates then it will look as above.
If you have any questions about your EPC that haven't been answered here then please don't hesitate to get in touch by filling in our contact form or by calling us on 0800 170 1201 (Office Hours are Mon-Fri 9:00-17:30 excl. Bank Holidays).
You may also be interested in: